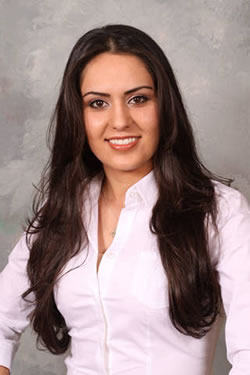 Dr. Halimeh grew up in the Grand Rapids area. For her undergraduate studies, Dr. Halimeh attended Ferris State University and graduated with a bachelor in Applied Biology. She also completed a Master's of Science in Information System Managements. Dr. Halimeh attended the University Of Detroit Mercy School Of Dentistry and graduated in 2012. Upon graduation, she practiced in Holland, MI and then moved to the east side after getting married. Dr. Halimeh is certified by the North East Regional Board and stays up to date with continuing education in all aspects of general dentistry.
Dr. Halimeh is committed to providing the best dental care to her patients. She believes in prevention and providing high quality, long lasting, and esthetic dental treatments. She works hard to educate her patients and to build strong relationships with each and every patient. Whether you're looking for an overall smile renovation or for regular checkups, Dr. Halimeh will meet your needs with the highest proficiency and efficiency.
When not working in dentistry, Dr. Halimeh enjoys spending time with her husband and three children. Dr. Halimeh enjoys traveling and spending time outdoors.